So it happened! I turned 50 (fifty) aka the big FIVE OH! I didn't mind. In honor of that rather biggish number, I will offer a tribute of 50 little things somewhat related to the birthday. I also give fair warning - only a few of these things are crochet and craft related so beware, if you don't want to learn 50 random things about me and my weekend - STOP READING NOW! If so, read on, comment, share and enjoy, my bloggy friends.
Here goes:
1. January 31st. The actual day. It started not so well with a visit from the peri-menopause mess I've been dealing with for the past 18 months. If you've had a rocky route with your process, I just want you to know that I feel your pain. Anyway, the Thursday before my birthday and the Friday of my birthday - and STILL today!!! this un-welcome visit has been the bane of what would otherwise have been all really good stuff. Enough on that.
2. The morning of 1/31 brought a birthday breakfast with my friend whom I haven't seen in a while at
THIS PLACE
. I had a yummy breakfast sandwich on house made sour dough and a nice cuppa coffee.
3. If REGENCY CAFE (#2) looks familiar to you
(see this photo)
, it's because one of the scenes from a recent movie was shot there - right in front of the restaurant.
4. The movie (#3) is
Silver Linings Playbook
. Did you see it - funny quirky movie - I liked it!
5. The movie also had a scene inside of another little diner, namely, the
Llanerch Diner.
The Llanerch diner is a few blocks from my house and we remember when they shut down several blocks in the neighborhood to film there. A little tidbit about the diner? The original owners of the diner lived in MY HOUSE! I know - fame is so close. I don't go there much anymore. Since the new owners, the prices are OVER the top and the food is just so so.
6. After breakfast I came home and treated myself to a crochet scarf. I've been wanting to make an infinity scarf so I gave it a shot. Mine was based off of
THIS PATTERN
. I liked the stitch she used and will use it again. I changed up the pattern. I crocheted it in rows of either 10 or 12 (can't remember) and then slip stitched the end to the beginning to make it infinity, rather than crochet it in the round. Mainly because I had only one skein to use and I didn't think I'd make it round and round enough times.
7. My neck is too long and I don't wear scarves well. I love them but I feel like they always look awful on me. I'm always looking at how other people wear scarves so well. UGH. The first attempt infinity scarf I tried (#6) was not right for me. I need something shorter and wider. Any favorite infinity crochet patterns out there?
8. After the scarf was done, I got ready for dinner. Hubby and I were going to a yummy seafood restaurant
(see my post about that here)
OR SO I THOUGHT!
9. We did go to that restaurant. Hubby told me when we arrived that we were just sampling some oysters but that he'd chosen another place for our dinner. I was a bit bummed. The restaurant was overly packed and not inviting and I suggested I didn't want to bother with it if we were eating somewhere else.
10. We went next door for a drink.
We went to this place
. It was a good find. It was a bar, it had food, it was happy hour, the beers were cheap and the HUGE bowl of mussels we ordered were $5! Win Win. I drank two Stellas in an icy cold glass. NICE.
11. Brief shout out to STELLA!
I love STELLA...
12. Then we raced across town to another restaurant and strangely one we'd been to many times. I was surprised that this was hubby's choice for a 50th birthday dinner as we usually like to try something new during Restaurant Weeks.
13. When we got to the parking lot, I heard a familiar voice. It turned out to be my daughter and two of my 3 sons. Hubby had arranged a surprise for me and they were joining us for dinner.
14. WHY was this such a surprise? Well, for one, daughter and one son live in Baltimore - 1.5hours+ drive away from Philly and they drove up just to surprise me at dinner!
Youngest son, back seat of the car, on way to surprise mom!
15. Next surprise? My other son was supposed to be at a swim meet but they had arranged with the coach that he could be picked up early to join us for dinner.
16. Another surprise? Hubby had bought me FIFTY ROSES!!! and my son carried them in to the restaurant to adorn our table!
17. We ate at
THIS PLACE called Spasso's
. It's a family favorite and we went here for my daughter's 21st birthday dinner.
18. Dinner included many courses for $30per person. Mine ended with my favorite dessert CREME BRULEE!!!! and Spassos does an awesome and wonderful crème brulee. It came with a candle which in the photo looks like one giant flaming bowl.
19. After dinner, my kids returned to Baltimore (my middle son is at college in Pittsburgh and 5 hours one way drive is a bit too far to join us for dinner). We dropped the little guy over to his girlfriend's house and in response to a facebook message from a friend, headed out again.
20.
We ended up at THIS BAR
. It's a little hole in the wall that's been around for quite a few many years. We knew two of the bands playing there.
Both had musicians who were also husbands of some of my friends.
We stayed for a few hours and finished the birthday night there with a few beers and some good fun tunes.
21. Here are a few more photos from dinner:
22. Woke up Saturday with NO HANG OVER! Yay. Spent the day organizing and editing photos for my youngest son's Swim/Dive team senior night celebration that's coming up this week. I designed two posters for the event. I use
THIS software for my Photo Organizing
. I use
THIS software for my photo design.
I love these software packages. I do a lot of client training on these packages for my "real job."
23. At 5pm it was time for us to go see a musical performance that one of hubby's friends was performing with. It was an a cappella group. They performed at a local church hall. They were really good. 12 people; 6 men 6 women and a lot of harmonies! They also provided beer, wine, and really yummy noshy snacks. It was great!
24. After the performance, we had planned to visit
this fairly new craft brew bar
a mile or so away. I'd heard about it and lots of people raved about the sandwiches so we decided to have a meal there. Unfortunately, it was very very crowded. We put our name in for a table and were told 30-40 mins to wait. We had some drinks at the bar and waiting. 1.5hours later they said - YAY your table is ready but OOPS we've run out of food and bread and cannot make you anything. ARE YOU KIDDING? We stood there watching all the food go out for over an hour and then we cannot eat - we were very hungry by then.
We said forget it. They halved our bar bill and we paid and left.
NOTE: I drank this: Screeching Loud Thrashing Death Metal Offensive Song: Blended Old Ale. 10.5% A blend of 9 month old Flemish Red (25%), fresh Barleywine (65%), and rye whiskey barrel fermented Barleywine (10%). A meditative reminder that all things in life are cyclical. Turn up the volume and exercise caution!
25.
We ended up HERE at one of our local watering holes
. I had some more Stellas and we shared a table full of appetizers and called it a night.
YOURE HALFWAY THRU!!!
26. We arrived home to notice that there was some sort of blockage at the end of our driveway.

day time view

night time view
27. Then we noticed a lot of paper stringing down from the trees in our yard.
28. Then there was the tell-tale red balloon indicating that our SENIOR SWIM/DIVE son was being spirited this night. It's all in good fun and it's our third kid being spirited.
29. Woke up this morning (Sunday) to decently warm temperatures. The weather looks like this:
30. It's been a really, really cold and snowy winter. My philosophy on that is HEY it's winter! Rather than the below freezing temps of the past few weeks. And guess what? We are expecting a small snow storm tomorrow - we are supposed to get another 4-6 inches!
31. I made some coffee in my new French press (xmas gift from #1 son). Do you French press? I love the way the coffee tastes this way.
32. Then I turned to some blogs.
I joined THIS BLOGGY BOOK GROUP
.
33.
I read about it HERE
.
34. I'm excited to add
THIS BOOK
to my reading list.
35. I just finished reading
THIS FOR MY FIRST EVER BOOK CLUB
. I'll write up a little review on this book in another post and tell my book club story.
36. Today I had one of my crochet designs featured
HERE ON CRAFT GOSSIP!
37. I also REALLY want to finish another little Valentines bunting to share with you.
38.
I LOVE THIS HEART BUNTING PATTERN.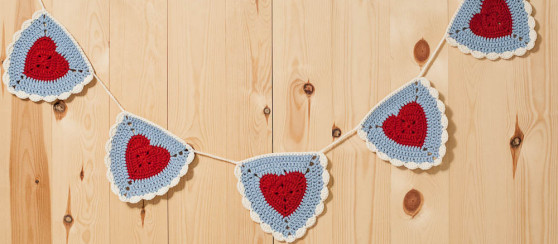 39.
This blog was one of my new discoveries this weekend and I've added it to my daily blog roll of reading.
Always so exciting to find new blogs.
40.
I also added this blog which is new to me.
LAST TEN THINGS!
41. Today is Groundhog Day in the USA. It's a funny day. It's a funny concept. I like it. One of my facebook friends posted this photo. So funny.
42. Every year on Groundhog Day Hubby and I watch
the movie Groundhog Day.
Do you know it? The humorous thing for us is that the first time I saw the movie, I fell asleep before the end and Hubby said, well, wait til next year and watch it again. So the next year we put it on and guess what? I fell asleep again. Seriously. This happened for at least 6 years. I fell asleep and had never seen the end of the movie - no lie. Not sure why cuz I liked the movie. Finally one year I saw the end. Now it's a tradition - we watch it every Groundhog's Day. Sometimes I stay awake and sometimes not. Tonight might be tough as Groundhog Day coincides with #43...
43. THE SUPER BOWL. If you aren't from the USA you might not care, but it's the final game in the NFL (National Football League). Not SOCCER football but American football. My team isn't playing. It's the Seattle Seahawks vs. the Denver Broncos. I'm happy with whomever wins but just want a good game. I think I'm leaning Seahawks as I was NEVER a fan with Denver's long-time quarterback, someone my hubby and I refer to as "cry baby Elway." That's another story.
44. So for the superbowl, often there's a party to watch the game and munchies are eaten etc... We are having a chill time in our living room watching the game and yes, we will eat something but we haven't determined what just yet.
45. Finishing up this post with the last 3 pins
I made to pinterest
:
PIN #1 of 3
45.
PIN #2 of 3
46.
PIN #3 of 3
47. Here are the gifts my daughter and son left me at our house and I found when I returned home from my birthday dinner.
NOTE: My son wrote me such a lovely message on facebook - what a nice kid!
48. And here are the lovely cards and well wishes I got in the mail.
49. The end is almost here. I'll leave you with a little photo inspiration from my blog reading today.
I saw this photo at THIS BLOG HERE.
50. Finally!!!! Happy 50th to all of my friends born in 1964 who will celebrate their milestone, half a century birthday this year. How about you - is it coming up on your big five OH or did you pass that already - love to hear back. Tata for now - Sher