Hey There. I have three things to talk to you about today.
1. Binge Watching. Do you do it? I do - and it's my favorite way to watch. I've always hated being married to a TV show - having to run home and watch when a weekly show is broadcast. Now, if you have all the modern TV equipment, you no longer have to do this - you can DVR or TIVO (is that still around?) your show, watch it online, on demand or even on Hulu or Netflix. There are so many ways to watch TV series these days and I'm certainly happy about it.
I used to almost avoid TV because I didn't want to have to wait a week between episodes, watch ads and be ready to view at one certain time - I'm too impatient.
But, when I discovered binge watching it was a whole new way for me - and my husband too. It's something we could do together, or on our own, or switch that up even and watch separately when we had the time and together when we were caught up to the same place. It's a way we can enjoy shows we want to watch usually without advertisements and at whatever hour it suits us. A night by the fire with episode after episode going while I sit and crochet - what a nice night in!
So I have learned to binge watch and I love it. Here are some of the things I've recently watched - let me know if you binge watch any of these and if you have other recommendations:
Downton Abbey (first 2 seasons were binged watched by hubby and me in only a few nights - after that we were all caught up and had to wait weekly for the next two seasons like everyone else!) - I think I watched this on pbs.org by hooking up my computer to our TV.
Call the Midwife - watched this on pbs.org on my computer - LOVE LOVE LOVE LOVE LOVE - and if you do watch it - can you get enough of Chummy? - she is AWESOME!
Orphan Black (watched this on recommendation from my MOM no less) - really talented main character as she plays like 8 different roles! Watched this on demand with Verizon Fios through BBC-America
House of Cards (just made it to season 2) - This one is a Netflix original. Really well done. Doesn't say much good about the American government. Wait, is that a surprise? (no comment, I don't like to get political).
Orange is the New Black - This one is also a Netflix original. Really gripping - had to watch and watch and watch and got through all of season 1 and 2 in no time!
The Paradise - from the BBC. Season 1 came to BBC-America, couldn't get season 2 though I heard that a second season did air in the UK. I loved this series too! I think I heard that a 3rd season would not happen.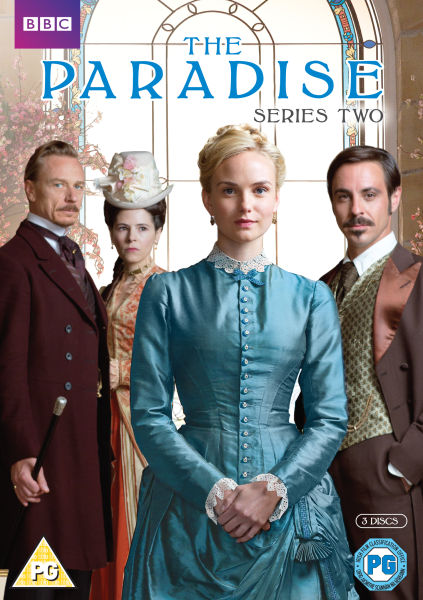 Land Girls - I've watched 3 of these and haven't managed to really love it. It's from BBC. I'm still watching.
Vikings - this show came thru from the History Channel. I started it one season behind so I got to watch season 1 and 2 almost back to back.
Restoration Home (just starting to watch these on YouTube
from this recommendatio
n) - it comes from the BBC. There are a ton of them to keep me occupied.
Masters of Sex - watched this week by week on demand. Now waiting for the second season set to air on Showtime Channel in a few weeks.
When all else fails to entertain me, I just put on Sense and Sensibility which I have watched hundreds of times and never tire of! I love the 1995 version directed by Ang Lee. It's a movie not a series and I can almost repeat it line for line. You should hear the groans and comments by my family when they see I am enjoying it ONCE AGAIN.
So there you have it - and oh, can you tell I love British shows? And my fave actors? Liam Neeson, Maggie Smith, Emma Thompson, Alan Rickman (did you see him in CBGBs? such an awesome movie about the Punk Rock music scene), Colin Firth - others..., they all seem to be Brits. I'm very predictable.
2. Running Back - I am back to running. I haven't run since Feb 11th. After 2 years of menopause complications which resulted in a very low blood iron level despite the pound of kale and batch of eggs I eat each week, I finally had to stop running for a while - I just couldn't keep up with my running group and felt I was always on the verge of fainting. I've continued to do strength classes with my running coach 2 times per week for an hour each - I'm pretty strong so I'm better at the weights than the running.
Me and July (my dog) at the end of a very hot run!
But today - I started back up and will run/walk my way to a solid 3 mile run by September. My hope is four runs per week. Week 1 is: Walk 3 mins, Run 3 mins - intervals. Today I complete DAY 1 of WEEK 1. It was hot even at 7am this morning and it is a VERY humid day (I hate humidity) but nonetheless, it felt good. The dog was thrilled to tag along, at least I have willing company on all my runs and she doesn't comment on my speed or my heavy breathing or my technique. A perfect running partner!
3. I've decided to make myself a mini mandala wall - in Yarndale fashion. I've been loving all the mandala inspiration which is ALL OVER the crochet blog world thanks to
Lucy at Attic24
. My own mandala has made it across the Atlantic and I found it posted on the pinterst board so I know it arrived. I'm excited to have my little piece of crochet lovely hanging there with all the others from around the world. You can find
my mandala here in this blog post
and also
here on this pinterest board.
Last night I needed to make a mandala - yes NEEDED. So I made this one. I found these wicker plate holders at the thrift store a few months ago for literally pennies, so I bought a few and plan to install a mandala in each of them and hang them on my sewing room wall.
Do you like it?
I used a pattern from the lovely blog: Color N Cream
- one of my favorite and probably my hands down fave for color inspiration. Do you follow it - AHHH it's so lovely.
So that LONG post is all for today - tomorrow I want to share with you the two books I have just recently read. Stay Tuned, TaTa - Sher